When it comes to beating the heat during a southern summer, you have two options: water or air-conditioning. Fortunately, Alpharetta has plenty of both! From opportunities to submerge yourself in the sweet relief of a sparkling pool to out-of-the-box indoor action, there's no shortage of methods for staying cool in Awesome Alpharetta. Here are four picks for dodging the heat and humidity while you're here: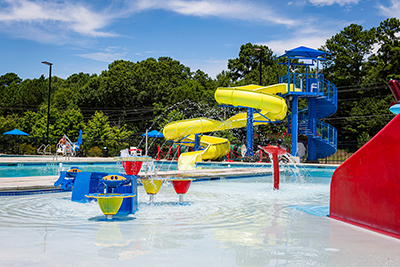 Located in the heart of Alpharetta, this gorgeous public pool underwent a $5.47 million renovation in May of 2018 and has been a staple for those who love to swim all summer long! This beautiful city pool boasts a whopping 31 lifeguards, multiple sunscreen-dispensing stations, a large yellow water slide, competition pool, and leisure pool. For the little ones, you'll find a kid-friendly zero-depth entry for the leisure pool so you can relax while they splash in the water. Whether you're the type who likes exercise by way of swimming laps or you're looking for a little leisurely floating, Wills Park pool has water-centric fun for everyone.
Who says skating has to be a winter sport? As the temps creep to the 90s, take to the ice—and the air conditioning that accompanies it—at this quality indoor sportsplex. As one of the largest skating facilities in Georgia, The Cooler features two ice arenas, one roller arena, and tons of fast-paced excitement. Each day, this fit-meets-fun spot offers public skate session times and even provides skating classes on Saturdays! Tap into your '90s self by locking into your inline skates or channel your best Katarina Witt with ice skates for a memorable afternoon on the ice!
3. Splash Away the Day in the Town Green Fountain
Downtown Alpharetta is jam-packed with great ways to stay chill, even on the warmest of days. However, one of the best ways is to splish splash your way through the Town Green Fountain. Spread out a beach towel on the high-tech turf and enjoy an ice cream cone from Kilwins in the afternoon or make a warm, summer evening memorable with a quick run through the fountain and enjoy the array of lights as the water cascades around you!
Get in the sporting mood with a visit to Fairway Social, where a variety of outdoor sports are transformed into indoor fun. Swing for the fences with Homerun Derby or hone your golf skills. Mix it up with a game of Zombie Dodgeball or shoot some basketball hoops. All of these sports activities without even breaking a sweat, thanks to Fairway Social's indoor bays that are optimized for indoor sporting entertainment. Don't forget to order a crisp beverage and an order of their popular Stew's Cue Smoky Deviled Eggs while you get your game on!

If you're cooling off in Alpharetta, we want to see how you choose beat the heat! Looking for more ways to cool off this summer? Book a room at any of our 30 modern hotels to enjoy refreshing pools, add a brewery tour to your itinerary for a crisp refreshing brew, or enjoy a some of Alpharetta's best ice cream shops. Make sure to share your summertime adventures in Alpharetta with us by tagging us @awesomealpharetta and #AwesomeAlpharetta.