About ACVB
Vision Statement
To positively impact the economic life of Alpharetta.
Mission Statement
To position the city of Alpharetta as a regionally, nationally and globally recognized premier tourism destination by developing quality programs and facilities to attract overnight visitors.
How We Are Funded
Alpharetta's 26 hotels collect an 8 percent hotel occupancy tax from their visitors and pay it to the city on a monthly basis. The city keeps 37.5% of the tax to spend on enhancements for its citizens, 18.75% is given to the conference center and  43.75% is distributed to the Alpharetta CVB to market and promote the city of Alpharetta.
What We Do
The Alpharetta CVB uses innovative and targeted marketing strategies, along with aggressive sales efforts, to attract overnight visitors to the city. We do this in three key areas:
Increasing the awareness and identity of Alpharetta as a destination for the leisure and individual traveler and raising awareness of the economic importance of the visitor industry to Alpharetta by placing advertisements, writing press releases, utilizing social media and maintaining a technologically advanced website
Employing a variety of sales strategies to increase the number of group room nights booked in Alpharetta's 26 hotels through attendance at tradeshows, association meetings and conferences as well as sales calls and site visits with event organizers
Providing leadership for the visitor industry, coordinating activities, encouraging marketing activities and partnerships, and projecting an appealing image on behalf of the city of Alpharetta
For more information on the Alpharetta CVB and our services, call us at 678-297-2811 and request our brochure, "A Look at the Alpharetta Convention and Visitors Bureau".
Recent Awards
2019 AVA Digital Awards: Gold for Alpharetta Insider Blog; Platinum for Awesome Alpharetta Destination Video and Honorable Mention for Awesome Alpharetta website
2019, 2018 & 2017 Readers' Choice Awards For The Best Meeting Sites In The South – ConventionSouth Magazine
2019, 2018, 2017, 2016, 2015, 2014, 2013 Best of the Best in Information Services from Appen Media
2018 Marcom Awards: Platinum for Alpharetta Insider Blog; Gold for Awesome Alpharetta website and the Alpharetta Visitors Guide, Honorable Mention for @Awesomealpharetta Instagram
2018 Southeast Tourism Society selected Wire & Wood Alpharetta Songwriters Festival as an 'STS Top 20 Event'
2018 AVA digital awards: Gold for website redesign
2017 AVA digital awards: Gold for online marketing strategy with Only in Alpharetta campaign and Gold for Alpharetta Insider's Blog
2017 "Best Ideas Competition" winner for Alpharetta's Insider's Blog at the Georgia Association of Convention and Visitors Bureaus (GACVB)
2017 Readers Choice from SportsEvents Magazine

2016 Readers' Choice Award- ConventionSouth Magazine
2016 AVA digital awards: Gold for Facebook engagement and honorable mentions for website and for digital campaign with Explore Georgia
2016 Marcom Awards: Platinum for Alpharetta Insider Blog; Gold for Alpharetta Destination Video and Only in Alpharetta Campaign, Honorable Mention for Alpharetta Convention and Visitors Bureau Facebook Page Engagement and for the 2015 Alpharetta Visitors Guide
2015 "Best Ideas Competition" winner for website at the Georgia Association of Convention and Visitors Bureaus (GACVB)
2015 Top 20 Events in the Southeast for Wire and Wood and Taste of Alpharetta
2015 Marcom Awards for Alpharetta CVB Facebook Page Engagement and Honorable Mentions for the 2015 Official Alpharetta Visitors Guide and Alpharetta CVB Website Redesign
2009, 2012, 2015 – GACVB Benchmark of Excellence Award By the Cunningham Center for Leadership Development
Benchmark of Excellence Certification from GACVB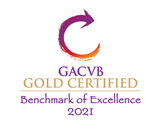 The Alpharetta CVB was the first CVB in the state of Georgia to receive the Benchmark of Excellence Certification (BEC) by the Georgia Association of CVB's Destination Marketing Organization.
The BEC program certifies that the CVB adheres to practices and procedures which serve to increase the overall professionalism and effectiveness of the organization