Relocating to Alpharetta
A short drive north of Atlanta, Alpharetta is a thriving city that truly has it all. From hundreds of
chef-driven dining options, unique shops & boutiques, attractions and year-round events, to 750 acres of green spaces and parks, Alpharetta is THE place to be.
Awesome Alpharetta CONNECTS Work. Family. Life
---
WORK in Alpharetta
Alpharetta has garnered an image as a connected city by attracting the brightest companies, employees, and residents to a modern, vibrant vision of what work/life looks like. Over the past decade, the city's investments in infrastructure and technology have laid a foundation that's fostering both business growth as well as individual happiness and satisfaction among residents and workforce. Alpharetta has become a community that offers everything an employee wants with a minimal commute, enabling employees to enjoy their lives both at work and at home.
As a connected city with deep cultural, social, technological and logistic resources, Alpharetta is creating the new standard for what city life will look like as we move through the connected decade.
See who else works in Alpharetta
FAMILY in Alpharetta
Alpharetta, Georgia's Connected City, is more than just one of the region's primary business centers, it's where 65,000 residents call home. Alpharetta boasts some of the best housing in the nation, attracting executives, families and top talent to our community. With exceptional living options, the housing market is strong, offering affordable housing from large track homes to downtown suburban living within walking distance to all the city's top shopping, dining and events. Alpharetta has an award-winning school system with four of the top high schools in Georgia, making Alpharetta a sought-after investment for families and businesses alike.
LIFE in Alpharetta
With roughly 27 square miles of thriving communities, an abundance of arts, entertainment, attractions, award-winning parks and trails, robust technology and infrastructure, Alpharetta attracts the best and the brightest from around the world, earning the reputation as a place where work, family and life balance is thriving and satisfying.
See for yourself why Southern Living® Magazine named Alpharetta one of the Top Cities on the Rise in 2022. Whether you're a committed parent or a recent college grad, we've got plenty to see, do and write home about here in Awesome Alpharetta.
Read more about Quality of Life in Alpharetta
CONNECT in Alpharetta
CONNECTIVITY is a word that perfectly describes the city of Alpharetta. Whether you are talking about the state-of-the-art fiber network system keeping Alpharetta connected to the world and allows our 700+ technology businesses the power they need to supply the latest in technological advances, or the miles and miles of paths, greenway, bike trails, outdoor malls and sprawling parks, Alpharetta allows residents the opportunity to get from one place to another without having to get in a car.
Learn more about Alpharetta's Alpha Loop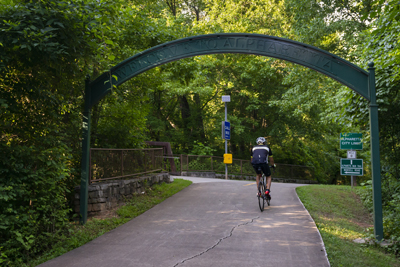 Alpharetta Resources
Getting connected and making Alpharetta your new home has never been easier thanks to these resources for relocation. Use the links below before and after your move!