July 13th, 2023
5 Happy Hours You Have to Try in Alpharetta, GA
In Food + Drink
It might be 5 o'clock somewhere, but when it comes to happy hour in Alpharetta, the magic hours where discounted drinks and bites beckon start as early as 3 PM! With over 250 eateries across the city, there's plenty of places to visit for snacks and sips anytime of day, but when it comes to happenin' happy hours, we've rounded up five that we think you'll love. Get ready for great flavors and fun at:
Taffer's Tavern hosts "Hungry Hours" from 3-6 PM. Guests dining in the bar and lounge area can enjoy all the yummy starters for under $10 each. Bite into the Truffle Fries or Onion Rings, munch on a Hot Tavern Pretzel, and savor the melty goodness of the Spinach Artichoke Dip. Pair great bites with some of the crafted cocktails for some extra "happy" in your day. We love The Campfire—a Browned Butter Rye Whiskey mixed with bitters and simple syrup—served with a tiny campfire on the side!
From 4-6:30 PM every Monday – Friday, Coalition is the spot for great bites and sips! With Happy Hour Red Wine, White Wine and Beers for $5 and Happy Hour Cocktails for $7, you might even have a second round! Make sure you're taking care of your tummy too and give it some great snacks to indulge in. Try the Half Dozen Gulf Oysters for only $9 or choose between the Bang Bang Chicken and Rhode Island Fried Calamari for $7!
Patrons who catch a seat in Colletta's bar from 5-7 PM can treat themselves to all the antipasti, pizza and bevandas they desire! The "Beer of the Moment" is a crisp $5 or guests can try the house white or red wine for only $6. Colletta calls these happy hour snack features antipasta, but they're filling enough to be a whole meal! The Burrata is heavenly, the Meatballs are satisfying and the Crispy Potatoes will make your stomach sing! Still hungry? No worries—the pizza, whether ordering the Margherita or the Calabrese, is to die for. All these delectable bites? $11 each or even less!
Relax at the end of a long workday on the patio at Firebirds or at their FIREBAR inside, where bar bites and drink specials happen every Monday – Friday from 4-7 PM! With great drink selections starting at $2, you'll enjoy plenty of pairings with the bar bites that serve 2-3 people each. Not sure which to pick? Give the Tuna Street Tacos, the Prime Rib Sliders, Fired Up Shrimp, or the Chile Chicken Tostada Bites a try!
Take the crew for tapas! The Fogón and Lions bar is the place to be on Tuesday and Wednesday from 5-6 PM and Thursday through Saturday from 4-5 PM. For $7, guests can revel in the Red or White House Sangria, sip on a smooth Avocado Margarita, or one of the other divine drink options on the happy hour menu. Make your "Hora Feliz" compl(eat) with the Croquetas de Pollo, the Albondigas Guisdas or one of the other excellent tapas available for only $5!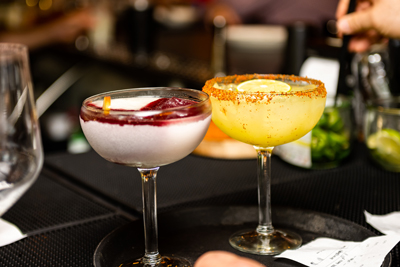 Great drinks and eats without breaking the bank is just what you need to indulge and relax guilt-free. Let us know where you like to celebrate the happiest hours of the day in Alpharetta by tagging us at @AwesomeAlpharetta and using our hashtag, #AwesomeAlpharetta! Salud!