Winter is the time of year to throw on a cozy oversized sweater, pull on your favorite boots, and seek out a soul-warming meal. After all, we all need something a little heartier and heavier to fill our bellies as the temps drop. Winter weather is the perfect excuse to embrace all that is gooey, cheesy, and warm.

The solstice days can feel long and sometimes the best remedy is a big bowl of steamy soup, a wood-fired slice of pizza, or a decadent plate of something reminiscent of home. To really up the roasty, toasty factor on the coziest dining experience, a heated porch or patio is a must. Fortunately, Alpharetta restaurants are ready with fire pits, heated patios, and plenty of satisfying dishes perfect for soothing the winter blues.
Here are a few of our coziest places to have a tasty midwinter meal: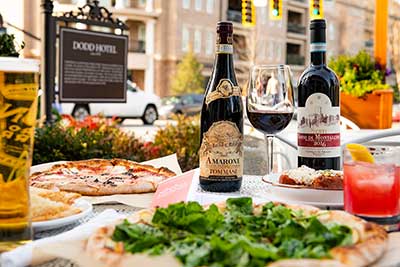 Equal parts Deep South and Southern Italy, neighborhood pizzeria Minnie Olivia delivers big on wood-fired pies featuring fresh, seasonal ingredients. Locals love the homey vibes and vast array of pizzas, Italian sandwiches, and homemade pastas. For an Old World meets New Era wintertime dining experience, enjoy a rustic slice of pizza encapsulated in one of their adorable heated mini-igloos. You'll feel like you're in a snow globe surrounded by the sights and sounds of sweet Downtown Alpharetta! Be sure to call their igloo reservation line at 678-691-0051 to reserve yours.
Winter Must-Have Menu Picks: "Have Meat Dreams," a meat-lover's delight featuring Bacon, Fennel Sausage, Prosciutto, Pepperoni, San Marzano Tomato Sauce on a perfectly charred crust along with a bowl of the oh-so-slurpable Roasted Butternut Squash Soup with fennel and pistachio marshmallow.
Daily fresh baked bread, scratch-made menu items with a big emphasis on locally sourced ingredients, and craft cocktails you never knew you always needed all within the cool confines of a modern-day speakeasy—that's the energy served up at Branch & Barrel (and we are here for it, honey!). While their propane heated patio is certain to keep you comfy on a cold, winter night, it's the fire bourbon selection that really heats things up at this Avalon epicenter of good time gathering.
Winter Must-Have Menu Picks: Kick things off with the fan favorite golden-fried Brussel sprouts tossed with Grindstone sea salt and tangy vinegar seasonings. And because winter begs for a root vegetable done right, opt for an order of the sweet potato fries topped with jalapeno candied bacon and a maple aioli that'll make you reconsider the way you perceive fries forever. When it comes to your main dish, if it's available, do not pass up the gastronomic opportunity to indulge in the flaky pastry magic of the Lobster Pot Pie. Of course, it wouldn't be a Branch and Barrel experience without bourbon, so don't miss a glass of Whistle Pig served neat or treat yourself to The Mother, a brilliantly boozy concoction of Michter's Single Barrel Rye, La Madre Sweet Vermouth, Foro Amaro, Tart Cherry, and Saffron Bitters.
Citizen Soul brings a taste of the West Coast to the Peach State with chef-driven, seasonally focused concepts and vibes so cool they'll give you an extra shiver in the midst of winter. Nestle into the fireside Adirondack chairs on Citizen Soul's chic patio for a shareable plate plus a boozy sipper to keep your spirits bright.

Winter Must-Have Menu Picks: Braised Bacon with char siu ketchup starter followed by the Braised Angus Short Ribs with roasted garlic potato puree and sorghum heirloom root veggies topped with a tongue-tingling Calabrian chili chimichurri. Be sure to keep the fire burning with a Hard Bailey Whiskey Manhattan, boasting a house barrel-aged blend of Citizen Soul's very own Hard Bailey Whiskey and Luxardo.
With its upscale cabin décor and sweet creekside location, Ray's at Killer Creek is an ideal wintertime date spot. Ray's offers seafood flown-in-daily, prime steaks & chops, an award-winning wine list, hand-crafted cocktails, and a team of ultra professional staff ready to help you choose the perfect soul-warming menu items to suit your palate. Their lovely covered, heated patio transports diners with stunning woodland views, starry patio lights strung across the ceiling, and a glowing, cozy ambiance sure to elevate the Hallmark holiday movie romance energy we all crave this time of year.

Winter Must-Have Menu Picks: Begin with the Classic Bistro French Onion Soup starring a decadent sherry broth topped with a golden crust of gratineed gruyere cheese, then graduate to the Chef's Featured Pasta for a heavy-hitting plate of linguine covered in roasted garlic marinara, ricotta cheese, parm, and wonderful housemade Wagyu beef meatballs. Forgo the hot cocoa in lieu of the more adult choice—a creamy, dreamy Espresso Martini brimming with Absolut Vanilla Vodka, Bailey's, Godiva Chocolate Liqueur, and espresso.
With its swanky, lively atmosphere and hints of modern exotic savvy, Rumi's Kitchen is a staple among foodies in Alpharetta. This Persian restaurant is well known for offering a feast for the senses, and the stylish, angular pergola outside is warmed to perfection during the chilly winter months so you can revel in the wonders of Rumi's complex layering of savory, sour, and sweet flavors.

Winter Must-Have Menu Picks: Start with an order of Roasted Mushroom Hummusiya, an authentic Persian hummus containing porcini broth, green onion, and pine nuts. Then, move into main course territory with the Ghormeh Sabzi, a hearty herb and kidney bean beef stew flecked with dried lime and served with a golden saffron basmati rice.
Tucked in the heart of Downtown Alpharetta in a 180-year-old building, Smokejack BBQ is the solution for any winter woes thanks to their superb service and soulful selection of smoked delicacies. Their covered, heated outdoor patio is the perfect setting to get a little sauce on your face as you fill up on one of the area's most adored spots for BBQ made with love.

Winter Must-Have Menu Picks: Burnt Ends, baby. If you're unfamiliar with the regional delight, "burnt ends" consist of brisket that has been smoked overnight, cubed, wood grill charred and then sauteed in Smokejack's KC sauce. To round out the kind of yum that'll make you think of your momma, do not miss the life-changing macaroni and cheese and the simply magical sweet potato casserole.
You can't do a truly cozy experience in Alpharetta without settling into one of our luxe, lounge-worthy hotels! After you've had your fill of delicious food and drink to keep the frost at bay, retire to a cushy home-away-from-home with one of our over 30 lush lodging options scattered throughout the city. All of our accommodations are beautifully appointed and situated in convenient locations to shopping, dining, and unforgettable entertainment options. Click here to book your stay in Awesome Alpharetta today