School is out for summer and it's time for kiddos to enter their "education through FUN experiences" era. Trying something new is the best way to keep young minds engaged, and it can be just as fun for parents, too! Whether learning a new skill, trying out a new trick, or staying active, Alpharetta has endless ways to pass the summer days. We've got 5 great recommendations that the whole family can get excited to experience. Let's get to it!
1. Create a Culinary Masterpiece at Flour Power Kids Cooking Studios
Kids aren't the only ones who can take a break from "homework" this summer break. Sign off dinner duty and sign up your kids up for a class at Flour Power Kids Cooking Studios. Classes for preschoolers to teenagers, as well as cooking events for the whole family, give your favorite sous chefs the chance to learn how to whip up delicious meals while acquiring kitchen skills that can be used at home. Big chefs and little chefs alike will all say, "YUM!"
2. Splish, Splash All Summer at the Wills Park Pool
Mom wants to read her latest book club novel, Dad wants to get rid of his golfer's tan, and the kiddos want to play. We have a solution for all the above: Enjoy a pool day at the Wills Park Pool! Featuring comfortable lounge chairs, a leisure pool with zero-depth entry, interactive play stations and a water slide, plus a 10-lane competition pool with depths from 4 feet – 12.5 feet, and two diving boards (1-meter, 3-meter), the whole family will have a blast.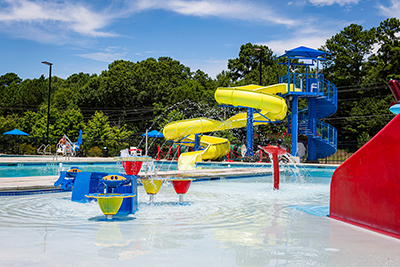 3. Get Your Game on at Fairway Social
Beat the weather at Fairway Social, where indoor bays offer all ages endless entertainment with games like Zombie Dodgeball, golf, lacrosse, soccer and so much more. Whether escaping the heat or searching for indoor fun on a damp day, the food and activities are top notch. As an added bonus, when getting outdoors is a must, The Back 9 beckons with plenty of putting fun and the rooftop bar offers live music and a big screen to catch the game!
4. Lace Up Your Ice Skates at The Cooler
Beginners and skilled skaters alike can enjoy family fun at The Cooler, Alpharetta's home for indoor ice skating. With public skating times throughout the week and easy ice skate rentals, there's plenty of opportunities to get all ages out on the ice. Stay near the edge of the rink to ease your way around until your feet feel steady or venture towards the center of the rink if you're ready to get your twirl on. You'll feel cool (literally) all summer long!
5. Put the Pedal to the Metal With Pedego Alpharetta
Biking is fun for the whole family, especially when you rent an electric bike from Pedego Alpharetta! Hit the Big Creek Greenway for an afternoon of coasting when you use the electric motor to propel yourself forward or turn off the motor to use your electric bike the same way you would use a standard bike for increased exercise. Everyone will have fun zooming through miles and miles of paved trailways, and young ones who are too young to bike can kick back and relax in a child seat or a "Children Trailer".
Looking for even more family fun this summer? Check out our PLAY page and share your #AwesomeAlpharetta adventures with us on social media by using our hashtag and tagging us @AwesomeAlpharetta!