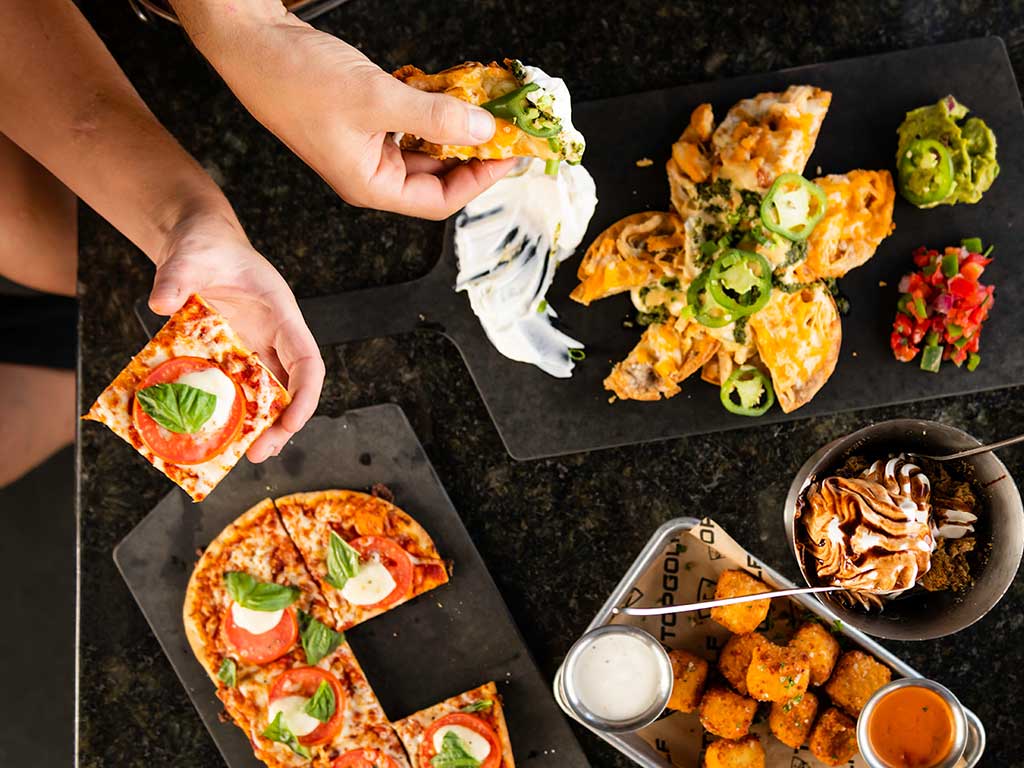 Alpharetta is a foodie's paradise even for little foodies! The city's dining scene is booming, and you'll find plenty of family-friendly options that everyone in the household will rave about. Awesome Alpharetta is filled with fun, affordable, kid-appealing and did we mention delicious restaurants that are a life saver at the first utterance of "I'm hungry!". Check out these kid-approved eateries that will get a thumbs up from the entire family.
Food + Games
Alpharetta is home to some epic experiences that combine amazing eats with exciting feats. Drop into Dave & Busters for action-packed arcade games paired with a magnificent menu. The kids' menu features classics like cheeseburgers, chicken tenders, pretzel dogs and macaroni & cheese, while the main menu has everything from Asian Chicken Wonton Nachos to an insanely good Fire-Grilled Steak with Bacon Wrapped Shrimp & Lobster Sauce. After everyone enjoys their food, send them into the arcade to play hundreds of games. The whole family will be fueled AND happy!
Check out Main Event Entertainment for bowling while you bite into delish offerings like the Main Event Burger for the big kids (and adults) or the Super Sliders from the kid's menu. Take turns on the bowling alley while enjoying food and drinks, then venture to the laser tag course or the pool tables. Main Event also offers a Food and Fun Combo where you can pair an entrée and game play for a discounted rate, making an arcade foray entertaining and affordable.
Swing into Topgolf Alpharetta where a high-tech driving range meets yummy eats. Enjoy bites in your bay, with Chicken Bites or a JR Cheeseburger for the children. Younger golfers can play games like Angry Birds, where your golf skills don't have to be pro level just to win. Ask about the Topgolf Kidzone for seasonal academies, leagues and golf lessons to help your improve their skills before your next Topgolf outing!
Top-Notch Kid's Menus
Finding kid-friendly restaurants doesn't require sacrificing flavor in Alpharetta. Make your way to Smokejack BBQ where they make sure that your kiddos will be asking for seconds. Pork Sliders, a Roasted Turkey Breast, or the Jumbo Bowl of Mac and Cheese are all guaranteed to be a hit. Finish your kid's meal off right with one of Smokejack's High Road Ice Cream Cookie Sandwiches.
Or for an out-of-the-box meal, JINYA Ramen Bar offers a kids meal includes Chicken Ramen, Crispy Chicken, sweet potato fries, an orange slice, lollipop and vanilla ice cream. Jinya also offers a Vegan Kids Meal featuring a Vegan Rice Bowl, Vegan Ramen, Vegan Tacos, edamame, green salad mix, boiled vegetables and an orange slice.
Enjoy the outdoor patio at Central City Tavern where your young crowd can enjoy Chicken Tenders, Cheeseburgers, and other classic kid's menu items and play on the green. Bribe the kiddos to behave at dinner by promising a post-dinner stop at Kilwins for a scoop of dreamy, creamy ice cream!
If you enjoy the idea of eating outdoors with the whole group, check out Chiringa for a Fried Gulf Shrimp or a Chicken Strip basket you can enjoy at a table by the Village Green. Reward your young diners who "ate a good dinner" with a King of Pops popsicle on Chiringa's dessert menu. They even offer a King of Pups frozen dog treat for the fur baby in the family!
Play a round of Corn Hole at Bocado Burger where your youngster can delight in a Fenway Park Style Hot Dog or a Beef or Turkey Kids Cheeseburger while you dine at a picnic table next to the green. Don't forget to order one of their handspun milkshakes to get plenty of your daily dairy requirements in.
Try Marlow's Tavern at Avalon for a $5 kids menu item like Tavern-Style Chicken Fingers, Two Tiny Burgers or a Big Kid Steak (+$4.50), and tie in a trip to Fuzziwig's Candy Factory after dinner before playing on the Plaza Green.
Looking for something on the healthier side? Get a balanced Kids Meal at BurgerFi where a kids' entrée pairs up with a Natural Snack and a Natural Juice to make sure your child is getting the nutrients they need!
Kid Meal Deal Insider Tips: Get the most bang for your buck on Tuesdays at Miller's Ale House where one child dines for free per adult entrée purchased, or on Mondays and Wednesdays at Pepperoni's Tavern where one child dines for free per each adult entrée purchased!
Enjoy a meal with the whole family in Alpharetta, where great fun and spectacular flavors don't have to be sacrificed for affordable family-friendly dining. Let us know which spots you enjoy the most by tagging us in your photos at #AwesomeAlpharetta. Now, let's eat!