Whether you want some classic ice cream to keep cool, or you are looking to be a bit fancy with your dessert, we've got you covered with a super list of eight casual and chic places to enjoy sweets.
If you've have gluten sensitivity, we've got you covered. 2B Whole features a slew of tasty treats that are gluten free. No need to miss out on the sweet fun!
If you and your date love sweets, or just want to canoodle, this Avalon spot is a must visit on your next date. The drink menu is a bevy of coffee drinks and cocktails. I recommend the Spanish Mokka, which is like a dessert itself, creamy and topped with chocolate shavings. But you'll certainly want to pick a dessert to share. Tip: Got a teen or tween? Take them here to make them feel extra special.
Think dessert and low cal are mutually exclusive? Not at Da Vinci's Donuts. Their doughnuts are just 60 calories. Of course that doesn't include toppings. I'm partial to the maple bacon or the strawberry glaze. Talk about being able to have your cake…er…donut and eat it too!
With several locations in Atlanta, it was time Alpharetta got a taste of the same delicious stuff ITPers have been drooling over. Like traditional ice cream shops, they are happy to let you sample flavors. Get the Buckeye State – a combination of peanut butter and dark chocolate. Tip: You can get ice cream by the pint too.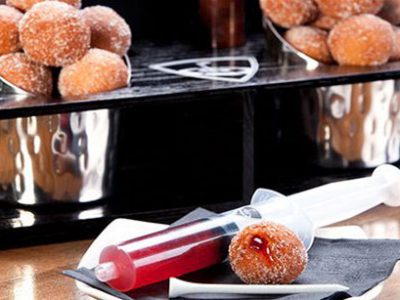 What does a golf spot have to do with dessert? You might be surprised to know that besides their killer cocktails and sharable dishes, Topgolf makes the cutest donut holes. They come with a syringe for injecting the luscious sauce inside.
The huge menu means that there is something for everyone at Village Tavern, and it is a fabulous choice if you've got a group with various dietary concerns. But save room for desserts because they are huge and fabulous. I can almost taste the carrot cake I had there recently…but there are plenty of other delectable treats too!