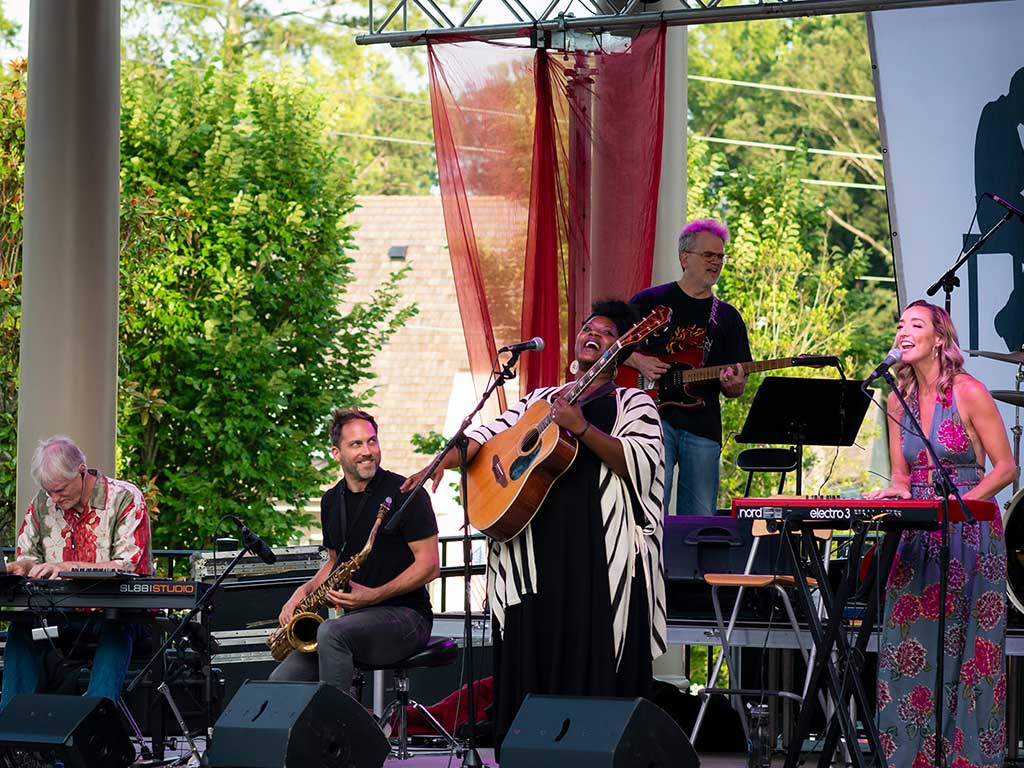 The link between emotion and music is a unique one, so much so that we often remember exactly where we were and what we were going through when we first heard that particular tune that would make the soundtrack of our life. Whether it's a tough break-up or the moment we fell hard for that special someone, the longest day ever or that spring break trip from 2001, music plays an integral role in the most memorable moments of our lives.
One of the most powerful aspects of song is its ability to transport us—to send us into a better, more relaxed state. Now, more than ever, we crave a chorus that can move us sung with passion and excitement. It's time we treat ourselves to the live concert experiences that elevate our favorite songs to full-fledge performances and indelible memories. The best nights ever await, and they're available right here in Alpharetta with these upcoming live shows:
Fresh air, Georgia starlight, and plenty of room for ample social distancing make beloved Alpharetta outdoor venue Matilda's Music Under The Pines a must for live tunes. On Saturday, July 25th, The Ben Jarrell Band brings their deeply authentic take on country music to our corner of Georgia. From outlaw ballads to good-time trucker anthems, Ben Jarrell's mesmerizing vocals are equal parts Chris Stapleton and Gregg Allman while his band delivers energy and passion sure that resonates long after the amps have been unplugged.
This incredible social-distancing style concert series is reminiscent of a drive-in movie but with rousing musical performances taking place live before your very eyes. Each Friday evening from 6 p.m. to 8 p.m., you'll experience a musical journey from the comforts of your vehicle. You and up to five guests can pile into your car, truck, or SUV, head to Avalon, and then tune into the live show du jour via your vehicle's radio or a smartphone app that receives FM radio. The cost is just $25 and all ticket proceeds this week will go to the Georgia Black United Fund, whose mission is to provide financial and organizational resources to nurture and promote positive life alternatives to underserved communities in Georgia.
The Velvet Note has long been heralded by locals and visitors alike as the coolest place to catch live tunes in the OTP area, so it's no surprise that Creative Loafing deemed this dreamy lounge a Best of ATL Winner. On August 7th, epic fusion guitarist Scott Henderson and his rhythm section featuring French musicians Romain Labaye (bass) and Archibald Ligonnière (drums) breeze into The Velvet Note with fiery vibes sure to make you move. Henderson mixes his jazz/fusion guitar influences with rock faves like Deep Purple's Ritchie Blackmore and blues hero Stevie Ray Vaughan to expertly segue between tranquil and high-octane sections along with his signature solo accents. With funky veerings into rhythmic emphasis and sprinklings of fretless tones and harmonics, Scott Henderson delivers each lick with imagination and intention in one of the area's best indoor concert venues. Talk about a win-win.
The Live Music Match Up concert series was designed to pair musicians with Alpharetta's most incredible local haunts to create a vibrant music scene available year-round. On Saturday, August 15th, Truck & Tap's mobile cuisine and massive tap list meet the ultra-cool rock of Fire and the Knife for a melding of creative wonder certain to shake up your weekend. We can think of few things more quintessentially summer than a frosty brew with the soundtrack of rootsy rock straight from the heart of Atlanta.
If you need a cozy place to crash after any of these epic summer concert experiences, Alpharetta has you covered. Be sure to check out our awesome accommodations here.
Please note that event dates and times are subject to change, please check our calendar of events page for updated information.